iOS Engineer at robotics start-up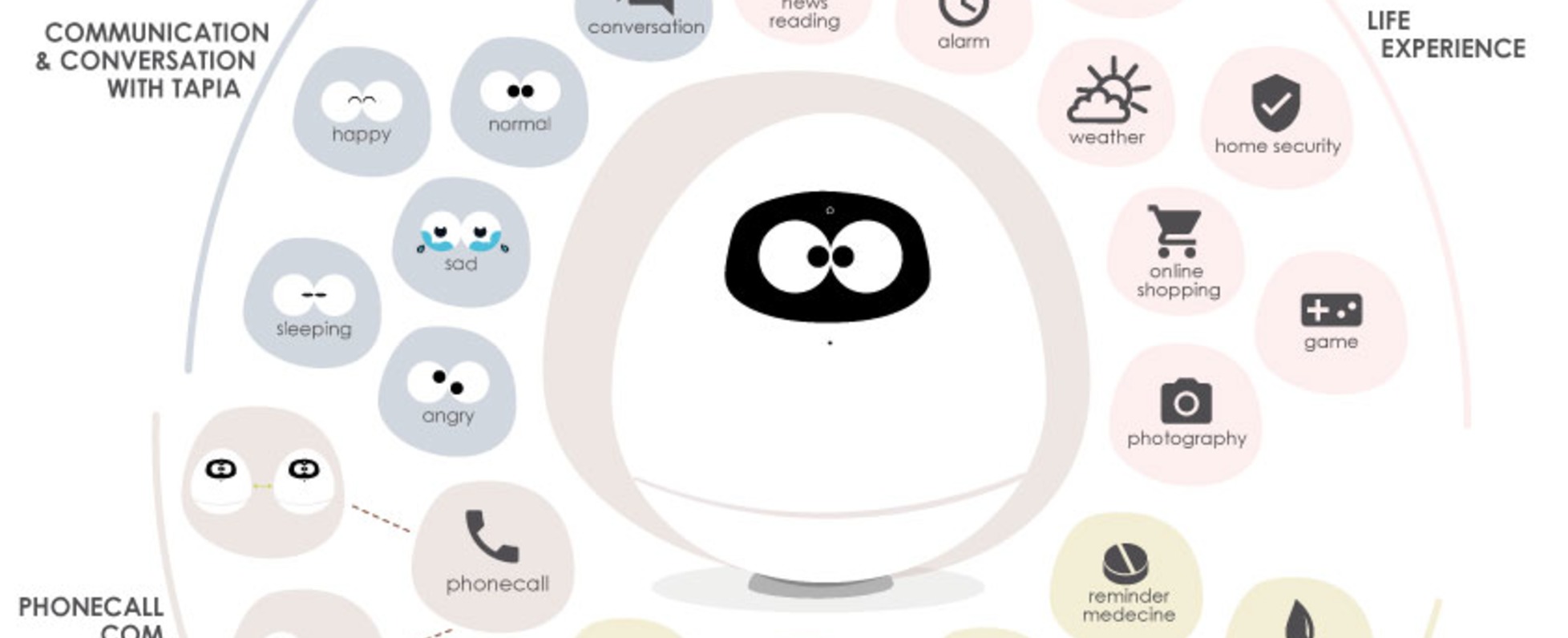 MJI develops communication robots to make you smile,
help you relax, and make your life more fulfilling.
MJI's robots are always by your side.
"Tapia" is a robotic AI companion. She helps you stay in contact with friends and relatives, helps you organize your schedule, informs you about news and weather, and provides you with hands free access to your media and IoT devices. Tapia is your assistant and your friend.
Tapia was commercially released in Japan in July 2016. Besides being sold directly to consumers, customized Tapia are deployed as a robotic receptionist or smart kiosk in commercial applications.
< What led Tony Shu, C.E.O. to develop a communication robot >
In the winter of 2013 I sent my elderly mother in America a smartphone as a Christmas present. However, some time passed and I never heard back from her. I became worried that maybe she had fallen ill so I called her and she told me that she was unable to contact me since she couldn't use a smartphone. At the time I had thought that a smartphone was something anyone could use even without a manual, but for my elderly mother it was too difficult.
I realized that although telephones have evolved into smartphones and have become smart, at the same time a user must also become smart or else they won't know how to use one. For the elderly, using mobile phones and smartphones, that is, devices that are operated with a keyboard, is difficult. The simplest form of human communication at its basis is speaking. A device that allows for natural communication through speaking rather than operating a keyboard would be more suitable for the elderly, and that's when I came up with the idea of a communication robot.
One day, I watched a lecture video that covered the results of 75 years of research conducted at an American university. This research began in 1938 and spanned a period of 75 years studying the lives of 724 people and analyzing a "happy and healthy life." One conclusion that was reached was that what brings people the most happiness in their lives is not money, but rather the relationships and communication they have with others. Although the results showed that good human relations bring people happiness, solitude causes negative effects both in terms of health and mind and can shorten one's life span.
While Japan has yet to put much of a focus on the negative effects of solitude, I strongly felt that we need to consider creating conversations either through communication with a robot that is held through natural conversation or by people being talked to by a robot.
MJI is a small and young start-up yet extremely diverse corporation as members are from Japan, Taiwan, Korea, Hong Kong, England, France, Canada, India, Bangladesh and the Philippines who like craftsmanship, are state-of-art technology oriented, who like to think about new ideas, who can enjoy doing things he/she has not done before and who want to exchange opinions regardless of nationality under global environments.
MJI is looking for a motivated iOS engineer for mobile apps to connect with our communication robot Tapia.
Allgemeine Infos
Suche nach
iOSエンジニア
Jobart
Mit Berufserfahrung
Infos zum Unternehmen
Gründer
Tony Shu
Gegründet
Juli, 2015
Mitarbeiterzahl
25 Mitarbeiter
Branchen
IT (Internet/Mobile) / IT (Telecom/SI/Software) / Electronics / Electrical Equipment