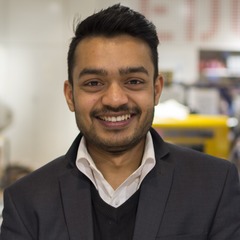 Prashant Bansod
Data Science Enthusiast
Software Engineer

東京都 武蔵野市

Beigetreten am 2016/06/02
Registriere dich zur Vollansicht
Über mich
I enjoy standing at the intersection of business (to interact with business stakeholders and senior leadership team), technology and math ( build optimization/machine learning models). My career passion is to help make product and business operations smarter through innovative and practical analytics.

Core competencies:
♦ Python(Numpy, Pandas, scikit-learn) ♦ Machine Learning ♦ Tableau ♦Predictive Analytics
♦ AWS( S3, EC2, VPC)
Meine Ziele
I want to take my passion for the Data Science field to the next level by working with the dynamic people in the industry. I would like to contribute to the society through my knowledge in this domain.
Berufserfahrung
Software Engineer

2018-10 -

Data Scientist

 Worked on data collection strategies for the future Machine Learning implementations
 Performed sentiment analysis on the chat messages using Natural Language Toolkit(NLTK) and Naive Bayes algorithm
 Performed basic customer segmentation using clustering algorithms to understand the users
 Worked on building a chatbot using Rasa NLU
 Designed dashboards using Tableau to solve business problems related to customer acquisition and communicated the results to the executive stakeholders.
 Improved the chat response on the platform by over 60 % by analyzing customer behavioral patterns
 Built a Chatbot using Google's Dialogflow (formerly api.ai) platform for the mobile application

2017-09 - 2018-01

Intern

 Collaborated with the Marketing team to improve the customer acquisition strategies using design thinking approach
 Worked as an Agent on the chat based platform to understand the customer behaviour and reported the findings to the executive stakeholders

2017-06 - 2017-08

Research Intern

♦Concept generation and design thinking on new product development

♦Analysis of stakeholder requirements

♦ Design and prototype building of a product based on Thermal Paper Technology for RICOH, Japan

2015-04 - 2015-08
Projekte
Finding Donors for Charity (Supervised Learning):

 The goal of the project was to construct a model that accurately predicts whether an individual makes more than $50,000. (Random Forest, SVM and Naive Bayes Classifier)
 Tuned and improved the performance using Random Forest algorithm that resulted in a final accuracy of around 86% and the F1 score of 73%.

2018-4 - 2018-4

Identifying Customer Segments (Unsupervised Learning)

 The goal of the project was to analyze sales data of a wholesale distributor, to identify different segments of retailers. (K-means clustering algorithm, Principal Component Analysis)

2018-4 - 2018-4
Ausbildung
System Design and Management

Coursework included System Engineering,Design thinking,System Verification and Validation,Marketing Management,Business System Dynamics

2016-09

Coursework included intensive practical coding in languages such as C, C++, Java and building Android OS applications
Created Stock Exchange Information application on both Android and iOS platforms

2013-02

Electronics and Telecommunication

Coursework:
System Engineering, Power Systems, Advanced Microprocessors, Embedded Systems, Signals and Systems, Digital Signal Processing, Digital Circuits

2011-09
Sprachen
Englisch

Verhandlungssicher

Japanisch

Konversationssicher
Zertifikate
Machine Learning Foundations: A case study approach

2017-9
Auszeichungen
Best Design Project Award -Graduate School of System Design and Management, Keio University

2015

Overseas Education Fellowship - Government of India

2014

MEXT Fellowship -The Japanese Ministry of Education, Culture, Sports, Science and Technology, Monbukagakusho

2015
Meine Interessen
Networking, Weekend Activity, Career Opportunity, Visiting Alumni
Empfehlungen
Keine Empfehlungen
Was ist der 'Wanted Score'?